June 30, 2009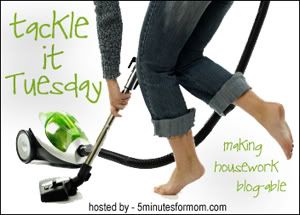 I am amazed at the fact that it is the end of June!! Anyone else wondering where the time went??? And what is even more amazing, for me, is that I am almost finished with the living room. I do have to say it would not have been possible with out this very special man in my life:
Everyone, I would like you to meet Big Daddy!!! Normally he would greet you with a smile but at this particular moment his patience was wearing thin because I couldn't decide where I wanted my new rugs!!!!!! He surprised me with a trip to the furniture store to pick out which rugs I wanted so I could finish up the
living room
!!! Isn't that awesome!!!
Purchase new rugs for living areas.
Clean out entertainment center and weed through our movies.
3. Pictures in frames.
Only one more frame to finish!
Last week kept me pretty busy and although all things didn't get done, most of it did!!!
1. Get post cards sent out!!
2. Blue menu folder completed
3. July grocery list started
4. Review Lesson 6
5. Fabric for CJ's 4th of July dress.
And for this week, it seems like my computer is going to get alot of love from me:
1. write post for Y.A.N.A
2. write Deacon Family post
3. write out grocery list
4. finish 4th of July dress
5. plan 4th of July Pot-luck, yikes!!!!
6. make grocery list.
7. review lesson 7
---
Father, may our example be such that our children would never have a desire to curse us and always be a blessing in our sight as they continue to seek a relationship with Christ.
Proverbs 30:11