June 9, 2009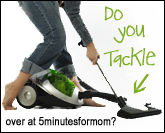 So, back in
April
I came up with a list of things I needed to do to get my living area decluttered:
1. Move fabric & stamp work center into storage closet.
2. transfer movies to photo albums
3. consolidate book shelves
4. put photos in picture frames
(still waiting on photos to arrive)
5. go through play dough toys and consolidate
6. set up a craft center in storage closet
7. go through old curriculum
8. deep clean rug and couches
9. buy printer for school desk
10. Move AWANA items to storage closet
11. Clean floor under rug.
Oh yeah concerning #11, things didn't go as planned and we ended up having to throw the rug away; wasn't a pretty sight and the smell was aweful!!!
Here is the remainder of what needs to get done:
1. Purchase new rugs for living areas.
2. Clean out entertainment center and weed through our movies.
3. Pictures in frames.
Don't forget to stop by and see what the blogger world is doing at
Tackle It Tuesday
!
And for my To-Do List this week:
Finish notebooks
Put away laundry
Practice Skit
Send out thank you cards
Work on June postcards
---
Father, may our children choose their friends wisely and seek the wisdom of God and not the foolishness of the world. Help us to show the importance of living a life in reverences to God that our children may come to understand true wisdom, gain insight and understanding of honoring God with their hearts and lives. Proverbs
9:7-12