April 14, 2009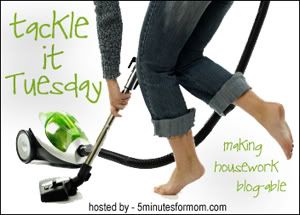 Victory at last!!!! This post has been several months in the making. I finally finished the last touches on getting my kitchen decluttered and organized. So the final two steps were 1)Finish lining my kitchen drawers:
Cutting out all the fabric
Drawers before fabric
Fabric added, what a difference!
Putting the drawers back in order
and 2) Cleaning the oven, my least favorite thing to do:
Spraying down the oven and drip pans

Cleaning off under the range, yuck

This build up didn't have a chance

Okay so I cheated and bought new drip pans after the old ones didn't come clean enough to put back on my newly cleaned stove!!!!!






and if you take a look at my To-Do List in my right column you will see that I was able to check off 2, yes, 2 items!!!!!! What a productive week it has been!!!!! Don't forget to stop by and see how productive other bloggers are being for Tackle It Tuesday!!!!
---

Dear Father, what an example David is for us today. May we be slow to anger and quick to pray as David was. May all be to Your glory and not ours, let us set aside our pride and seek out what You desire to do with whatever situation we find ourselves in today. Your glory, Your honor, may that be the cry of our hearts and the motivation of our actions. In Jesus name we pray, Amen