April 28, 2009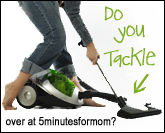 So here it is, the plan to de-clutter my living room and get all things a home sweet home. They are not listed in an particular order, just what I decided needed to be done when I looked around the room!!
1.
Move fabric & stamp work center into storage closet.
2. transfer movies to photo albums
3.
consolidate book shelves
4. put photos in picture frames
5. go through play dough toys and consolidate
6. set up a craft center in storage closet
7. go through old curriculum
8. deep clean rug and couches
9.
buy printer for school desk
10.
Move AWANA items to storage closet
11. Clean floor under rug.
As you can tell I am in full steam ahead mode!! Unfortunately my camera has broken and I can not download pics from my cell onto my laptop?!?! Not sure why, but until my camera is fixed I'll have no pics. I know, I know. I'm not sure if I can function without posting pictures!!! But, a girl's gotta do what a girl's gotta do. Click on over to
Tackle It Tuesday
to see what else has gotta get done!!!!
It is mission accomplished for last week's To-Do List, can I get a cha-ching!!!!
And so the pressure is on to get this weeks
To-Do List
(over there in my right column)
done and finish the boys pjs!!!!
---
Father your love is amazing and wonderful!! Thank you for revealing yourself in the little blessings of this day. Let us always remember that your creation bears the proof of your existence. Let us take the time to enjoy a cool breeze kissing our cheeks, the warmth of the sunshine falling upon us as we walk through the green grass that massages our bare feet. As Spring bursts forth let us also be reminded of the life You give to us through your son Jesus Christ. In His name we pray, Amen