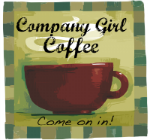 Well I went visiting this morning to check out the "format" for Coffee Company Girl style, and after stopping by
Shanna's
,
Janet's
,
Reese's
, and
Mommahen's
I realized there is no format.
Whew!!
It's just a chance to sit down a gab, blogging style. This is right up my alley: No need to worry if I got all the cheerios out of the couch, no need to be in a panic about the dirty dishes in the sink, and best part I don't even have to take a shower. (You'll be thankful you don't have to
smell
see me like this.)
So since this is my first time having you all over for coffee, I thought I'd share 3 fun facts about myself:
1. I love coffee. Hot, cold, store bought, home made.
If it's got coffee in it, I'm all go!!!
2. I misplace my camera all the time.
I love to take pictures to share on my blog. The other day Big Daddy was looking through the files and asked:"Why did you take a picture of that?" "Oh to share on my blog." "You're going to share THAT?" "Yep". So maybe I'm not really misplacing it after all, lol.
3. I am a library junkie.
We go to story time at our base library every Monday and then walk down there ever Friday to rent a free movie that we can return, on time, each Monday. Well I am the that person that casually browses as I walk by and if I see a book that is interesting, I pick it up and check it out. No rhyme or reason for why I pick the books, just depends on what isle I decided to walk down.
So here is a list of my latest check out, which by the way doesn't include the titles from Monday's check out.
-simply sublime bags by jodi kahn
-does it freeze by bridget jones
-garments for beginners by coats & clark
-fix it and forget it, 5 ingredients favorites
-i'm bored! by suzy barratt and polly beard
-the 5:30 challenge by eanne besser and susan puckett
-making your own gourmet coffee drinks by mathew tekulsky
-the ultimate smoothie book by cherie calbom
-healthy treats and super snaks for kids by penny warner
-meatloaf by maryana vollstedt
So this weekend is super busy for me. As a matter of fact, I need to get going so that I can go make some pumpkin muffins for a L.I.N.K.S. session at Foster. Next I've got to prep my Sunday School lesson and Children's Church message. This week has been non stop and the rain didn't help either. But I am blessed by it all; just need to work better on time management. But hey with 3 kids, a Marine husband, and love for sewing I'm not sure I'll ever work that one out. It's fun trying, though. I really do have to go,
but
please look around, post a few comments, check out a few links, and hopefully you'll come back next week!!!! Enjoy your weekend. Hopefully I'll
find
my camera and be able to post some pics from our weekend!!!