May 12, 2009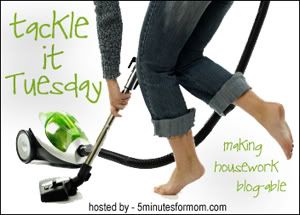 Well this week wasn't as productive as I was hoping. I even forgot to pay the cable bill and didn't even realize till I couldn't log on Saturday. Opps. So my tackle for today is to finally go grocery shopping for the rest of the week. I've been trying every couple of days but it just doesn't work for me so back to the old routine. I'm also working on doing two loads of laundry and seeing how that helps me keep up with the never ending laundry. Wish me luck!!!! On a positive note I am able to mark off one more thing from my de-clutter the living room tackle, which by the way is turning out to take more time than I expected.
1. Move fabric & stamp work center into storage closet.2. transfer movies to photo albums
(finished this over the weekend)
3. consolidate book shelves
4. put photos in picture frames
5. go through play dough toys and consolidate
6. set up a craft center in storage closet
(work in progress)
7. go through old curriculum
(work in progress)
8. deep clean rug and couches
9. buy printer for school desk10. Move AWANA items to storage closet
11. Clean floor under rug.
Come join the party and see what everyone else is tackling in the blogshere at
Tackle It Tuesday
.
And so 2 things remain on my To-Do List for this week: 1. Print of pics for Mother's Day gift (I know, I know it's going to be way late.)
2.Still looking for a place to fix my camera, ugh!!!!
---
A passion for God
Lord, please instill in my children a soul with a craving for You, a heart that clings passionately to You.
Ps. 63:8