June 23, 2009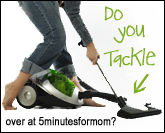 Sometimes a girl just has to have a bit of fun when it comes to cleaning!! And I knew my freezer was going to be in trouble when our commissary finally got the
Reynolds Handi Vac
in stock!!
Before the Vac party began:
All finished and wishing there was more work to be done!
Yeah, baby!!!! I made some awesome progress with my To-Do List from last week!!!!!
Send out thank you cards
Personalize postcards
Grocery List
Look at lesson for Sunday
Finish reading Body by You for Women
Schedule sewing time
Send out email for pot-luck
Let's hope I can keep the motivation up and finish this month strong!!
1. Get post cards sent out!!
2. Blue menu folder completed
3. July grocery list started
4. Review Lesson 6
5. Fabric for CJ's 4th of July dress.
---
Father, cultivate within my child a desire to listen and obey. May I train my child without being a hypocrite and do those very things I ask of them. Let me be an example of obedience by demonstrating, to my children, obedience to You! May I earn their respect in a godly manner and not cause them to stumble because I myself do not do the very thing that I am asking of them.
Proverbs 23: 12, 22-25