June 12, 2009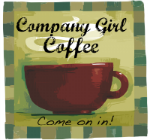 Hello Company Girls!!! Come on in. What a week it has been. I feel like a stationary bike, the wheels are turning but I ain't going anywhere. A big frustration has been my laptop. For some reason when I go to visit blogs I get an error message stating that IE can not open the site and then it bumps me off the web?!?! Any one else had/has this problem too? I'm going crazy over it!!!!!! When I haven't been contemplating throwing my blog into the trash I've been updating
this post
on how we are going through the ABCs for JJ. I've learned alot, like how you can use the paint application to add text to a saved file. I'm starting to get an appetite to learn how to make these files for myself. But that will have to wait until I get better acquainted with HTML and CSS. One small step at a time, right.
I've also started the huge project of planning the 2009-2010 AWANA Cubbie year. But first I have to get everything organized. And right now everything I need to organize is in the back of my car:
So my weekend goal is to get it all out of the back of the car and into my house. Which wouldn't be an issue if the rain would let up oh and the fact that power will be out in our tower so that means no elevator!! That's okay, I like it when the odds are stacked against me, lol.
---
Father, may we teach our children to weigh each word spoken and ensure that it is true, and uplifting.
Proverbs 12:13-14