April 17, 2009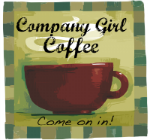 Welcome back for coffee today. It's a bit rainy and
PMDD
is at a peak with me right now. Although I do have to say I think we are getting very close to figuring out my meds. I am very run down and have almost no energy but instead of just laying down and letting all the little things overwhelm me, I'm able to look at the bigger picture. Now for instance I need to get the dishes done, write up a grocery list, go grocery shopping, and LJ has a soccer game tonight. (Oh yeah they play rain or shine, ugh!!!) So I just put CJ down for a nap, the boys are in an electronic trance and I decided to pour myself a cup of luke-warm coffee and work on my blog just long enough to relax. I know the things above don't seem like major things to stress out about, but with PMDD it becomes the very center of my world and I become so overwhelmed I can't function or that was how things were. I'm able to realize when my emotions are in overdrive now and can regain control over how I'm thinking. The tiredness hasn't gone away and I'll be talking with the doctor about that next Friday, but one step at a time and at least we are going in the right direction. So if you don't mind, I'm off to do my dishes and write out my grocery list. Shopping will have to wait till tomorrow and maybe we'll just order a pizza for dinner????
Here are two sites I dropped by this week and thought you might enjoy them also:
BonBon Boutique
Chemo Angels
---
Dear Father, may our hearts be able to yell out to the world as David did:
"you'll not separate me from God in life or death. The absurdity!"
As we come to understand how little we have to do with our salvation and how much Christ gave for us to be reconciled to You, may we walk down the path of sanctification and not get the two confused. Our Salvation is Christ's work for us and our Sanctification is Christ's work in us. In Jesus name we pray, Amen