March 3, 2009
Father, let us always remember that our treasures are above. Help us to invest in those things that are eternal and not get caught up in the "cares" of this world. Show us how to be compassionate and full of grace this week. In Jesus Name we pray, Amen
---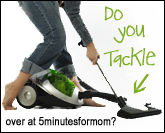 I know it's not typical to ask you guys to do a tackle for me but I just
had to ask
after I read this blog on
Gracie Jean
. 1) Please pray for their family as Gracie Jean has passed away from an unsuccessful heart transplant and 2) Go by their blog and
leave a loving comment
. And if you feel lead, you can also write a post on your blog to spread the word about the much needed prayer for this family!!!! Thank you.
---
I didn't realize how my Running To Do Lists really kept me focused. I have been all over the house tackling this week.
Cleaning the couch was necessary after a weekend of very sick kiddos!!!
I decided to make a play mat to go with the diaper bag I had made.



(everything cut out)


( sewing the blocks together)


(so what do you do when you measure wrong?)


(improvise, viola)
With all the sewing I have been doing, my sewing station has gotten a bit out of hand so it was time to tidy things up a bit

Okay.
So I'm not running all around the house again, here is what I hope to tackle:

ASAP:
-prep cubbie craft
-pay monthly bills
-finish purple folder menu plan (more on that next week)
-write out notes for Children's Church lesson
-Go over Sunday School lesson plan
-order sandwiches for picnic on Sunday


In A Holding Pattern:
-order pics for Mema's Calendar
-highlight and get icb translation for LJ's Spark verses


-cut out fabric for CJ's dress


-sew Minnie Dress together
- send Cary Hairbows much love 'cause CJ's bow turned out too stinkin' cute!!!!


( I was tickled pink when I realized how well it matched the dress I made, and that wasn't even planned. Can you tell I'm really getting into the groove of having a girl now, lol)
- send out February cards, I am so behind this year, ugh


Make Reservations Please:
-frequently called numbers list
-work on address book again
-finish de-cluttering the kitchen drawers
-work on CJ's summer dresses




So what's your tackle looking like today. Need some inspiration? Head on over to Tackle It Tuesday and have a look around. Organized Mommy is hosting this week so be sure to stop by and say hello. Promise she is friendly and doesn't bite!!!!!